Are You Feeling Constantly Tired in Early Pregnancy? 
Are you struggling because you are feeling constantly tired in early pregnancy? If only you could just be at home in bed and sleep when you need to…but that's just not possible because you need to work and you've got things to do. 
Why Am I Feeling So Tired in Early Pregnancy? 
There are a combination of factors which lead to feeling so tired when you are pregnant. It's often a surprise for first time mothers as they don't expect to experience pregnancy tiredness so early on. 
Remember that you are creating a tiny human and your body is working very hard in the background. Think about which pregnancy week you are in and what you are creating at that moment in time. Perhaps an eye or a nose, a heart or lungs. Pretty amazing really! No wonder you are feeling tired as your energy supplies are being directed into this wonderful creation.
Pregnant and I Feel So Exhausted
Some days can be really hard going during pregnancy, when you're just so tired but you don't have the time to take a nap. Then nights can feel so long because you wake up with insomnia and can't get back to sleep again. It's so frustrating being wide awake at night during early pregnancy when you feel so tired during the day.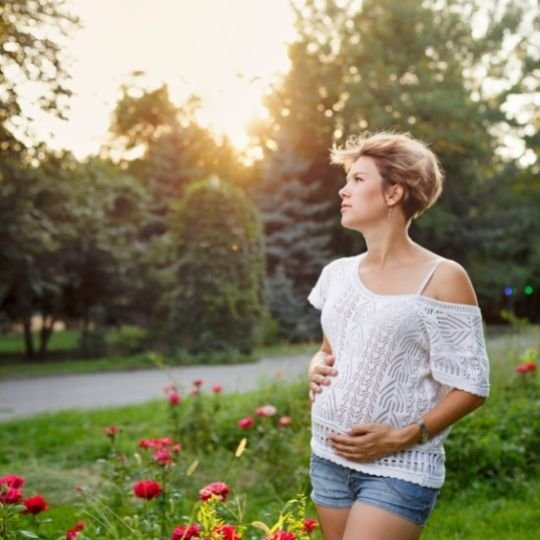 How Can I Start to Feel Energised During Pregnancy? 
What Are The Best Tips For Feeling Less Tired in Early Pregnancy? 
Tip One
Take short power naps during the day. Can you find a quiet place and set an alarm on your phone to wake you up again after ten minutes? I worked during my pregnancies and drove to work in my car. I would take short breaks between working and meetings and sleep in my car. I figured that should be ok seeing as the smokers always took their ten minutes as well. 
Tip Two
Watch what you eat. Avoid foods that cause heartburn as it can be most uncomfortable and keep you awake at night. You need to have a good night's sleep. Eating small amounts and often, avoiding foods which trigger heartburn (LINK), eating foods which calm stomach acid (such as bananas and natural yoghurt). Allow yourself to have a good, deep sleep so that you have more energy for during the day. Create night time snacks and keep them next to your bed so that you can satisfy midnight hunger attacks immediately and fall happily back to sleep.
Tip Three
Invest in a cuddly and supporting pregnancy pillow. It makes such a great difference when you can get your body in a good position and feel balanced. Are you a C Type, a U Type or a Boppy Type? A pregnancy pillow is such a good investment for the longterm because you will sleep much better as your belly grows and you can use it to support your back whilst feeding your baby. 
Tip Four
Diffuse calming essential oil scents at night so that you can sleep deeply and breathe easily. No more waking up with a dry or stuffed up nose. No more stress because you are feeling wide awake in the middle of the night and know you will feel exhausted again in the morning. Grab your Oh My Mama Body Guide here to essential oils during pregnancy, created by Midwives for your best pregnancy experience. The best place to start for your positive pregnancy experience. 
Tip Five
Lemon & Peppermint Oils for refreshing and uplifting your senses. But please be careful and follow our Guidelines for using these oils safely during pregnancy. It is highly important that you use only pure, high quality oils. Oh My Mama Body Midwives recommend Young Living and will support you in how to use them. Make sure you order yours using our Independent Distributor Number (Referral and Sponsor) 22158815. More information in our supporting guide or simply contact us using our contact form and we will gladly help you. We care so much about you as pregnancy should be a time to be enjoyed. 
Tip Six
Ningxia – for energy. Something every pregnant woman needs; that feeling of extra energy to uplift you when you feel so tired. NingXia is a wonderful mix of wolfberries and nature's natural energy givers which are safe to use (in small quantities) during pregnancy. It is a juice from Young Living which Oh My Mama Body Midwives recommend. Be sure to get your free Guide to Natural Pregnancy Supplements so that you can feel your best during your pregnancy. Contact us if you have any questions and we will happily chat with you via email or arrange a short call to help you further.
Get More Support and Tips to Help Your Pregnancy Journey
How Can I Feel More Energised During Early Pregnancy?
Follow the Oh My Mama Body Tips above for our six top tips for relieving tiredness during early pregnancy (and during later pregnancy). 
You don't need to struggle with feeling tired during pregnancy. Get your Oh My Mama Body Pregnancy Supplements Guide to support you (click here to get yours) to feel amazing during your pregnancy. It is such a precious time whilst you are growing your baby. We really would like you to enjoy every moment of your pregnancy. If you have any questions about pregnancy pillows or natural supplements, please contact us via our contact form and we will gladly help you. 
Wishing you a happy and positive pregnancy. 
Watch the YouTube Video Below for More Great Tips
Subscribe to my channel to receive regular supportive videos to help you on your pregnancy journey.