Your Healing Journal for after Miscarriage
I am so sorry that you are going through the pain and sadness of miscarriage.
Are you going through many ups and downs after your miscarriage? Did you know that journaling provides a healthy outlet for your feelings and emotions? Do you know how to journal using prompts? 
Your healing really matters. This journal is designed to support and guide you with love and empathy on your healing journal. 
A short guide at the beginning explains the healing that journaling brings and takes you through prompts which help you to express your thoughts and emotions. To really let everything flow on to paper and allow the healing to take place. 
Feel consoled by the beautiful illustrations which really capture your emotions after miscarriage and help you to process your emotions as you write.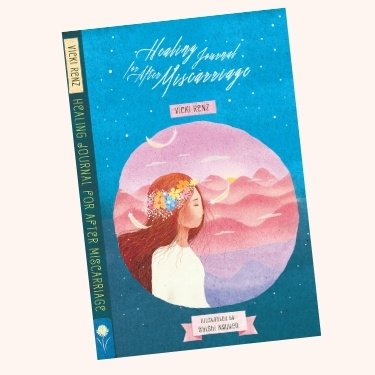 Healing Journal for after Miscarriage
Discover the healing power of words and pictures when you journal and let your emotions flow through your pen
There is a guiding section at the beginning of the journal which describes journaling techniques to help you with your healing
Follow the link "Buy the Journal" to be taken to the payment details page
Postage is included in the price – wherever you are in the world